Episcopal Church Women
Who we are
We are Episcopal Church women of all ages, ethnic origins and socioeconomic backgrounds who hold a variety of views. However, our common denominator is our love of God and the desire to do his work.
Our Mission
Centered in congregations, the Episcopal Church Women (ECW) empower women to do Christ's ministry in the world.
Episcopal Church Women's Prayer
Almighty God, we pray that You will bless our work in mission and ministry in the world. Help us to pray fervently, labor diligently and give liberally to make known the power of your love given through your son Jesus. Let us not forget the lessons from the past nor fear the challenges of the future. Anoint us with your grace and shine in our hearts as we reflect your light throughout the world. Amen.
---
Rummage Sale 2019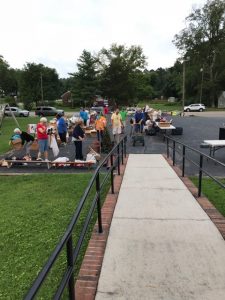 ---
ECW Christmas Party 2018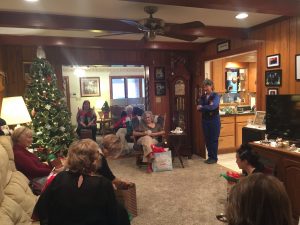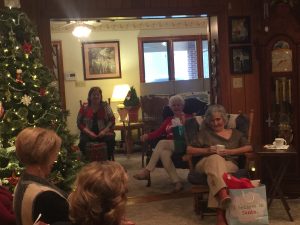 ---
Our Vision
Our vision for all women of the Episcopal church is that we become a vibrant blend of all ages, coming together as a peacemaking, healing part of the church. We aspire to be a God spark – shining and sharing the love of Christ.
St Paul and St Andrew ECW
We welcome all women at St. Paul and St. Andrew to be active in the ECW. The ECW women are the heartbeat of the church funding outreach programs for Salvation Army Christmas food drive and Madeline's House, to name just a couple. In addition to these outreach ministries we fund Camp Chanco scholarships and help provide upkeep for both the sanctuary and parish hall. The ladies prepare refreshments for the weekly coffee hour and special occasions.
The children in the community are treated to an Easter Egg hunt complete with the Easter Bunny, as well as Santa making an appearance for the children's Christmas party. The many activities, various projects and outreach programs are funded by the Brunswick Stew cooked by Stewmaster John Mahaney and a yearly rummage sale. We are truly "sisters in Christ". Please find it in your heart to join us at our next meeting.
---
JOIN US FOR AN ECW LADIES NIGHT OUT
Each month we are getting together for dinner at a different restaurant. We will meet at 5:30 at church on the 3rd Thursday of the month to carpool. Mark your calendar now to join us for a fun evening out!!